DomaCom's next rural property on offer under the Next Generation Farmer Strategy, selected by Cultivate Farms to provide a succession plan for the vendor, is in Scottsdale, Tasmania, located in the North East of the Apple Isle.
The farm is known as Highclere which is an old English name meaning good or clear view.
Scottsdale is the largest town between Launceston and the East Coast. It is close to Mount Stronach State Park and the ski village on Ben Lomond.
The minimum investment in this property is $2,500.
Location
Highclere is located at 35530 Tasman Highway Scottsdale, 63 km North East of Launceston and 2 km from the town centre. Scottsdale is a small vibrant regional hub of 2,600 residents that services the farming community in and around Scottsdale and the smaller villages nearby. It has a rich history in agriculture, traditionally cropping, but also well developed to include dairy, sheep, beef, pig and potato farming as well as plantation farming.
Scottsdale was recently featured on the Back Roads program on the ABC. The opening scenes of that episode featured the livestock from Highclere.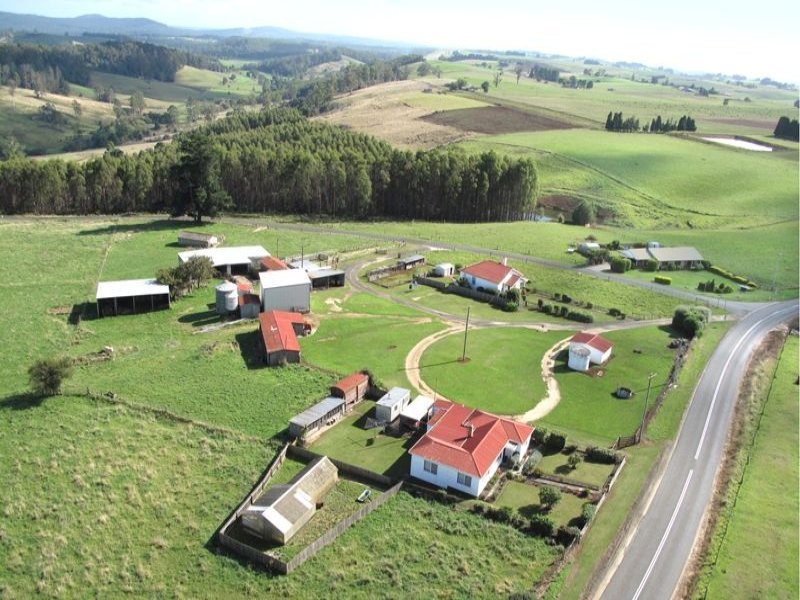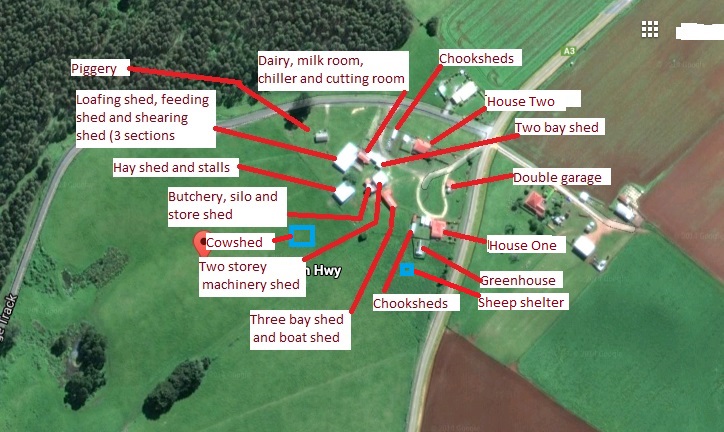 About Highclere
Highclere is a unique 40.54 hectare (100.2 acres) predominantly cattle and sheep with a fair complement of geese and chicken.
It fronts the Brid River and the infrastructure includes 2 houses, a greenhouse, two chicken sheds a double garage, machinery shed, carport, implement and boiler sheds, a butchery, killing room, chiller dairy, shearing shed, loafing shed, hay shed and feed bunks, a piggery, cattle shelter and sheep shelter and a storage shed and silo.
There is a small mixed fruit orchard and a cider apple orchard.
The property is divided into two sections of 25 acres and 75 acres respectively. The 75 acres was planted under Blue Gum in 2000 with the trees felled in 2016 to make way for grazing. There are several springs providing water as well as the river and the property produces a good supply of hay from 8 acres of mixed grasses and clover.
The second dwelling makes it ideal for an incoming next-generation farmer to work on Highclere.
A recent valuation put the property at $525,000.
The vendor will retain 48% equity in the property and will rent the property from the fund under a 10-year lease, which should give investors comfort from the property owners ongoing commitment.
Key information
Indicative value: $565,000
Target amount to raise: $300,000
Indicative capital growth: 6%* p.a.
Targeted rental return: 5%** p.a.
As DomaCom will be the landlord for Highclere, a property manager will be appointed to manage the property including collecting the rent and future tenancy if or when required.
The gross rent is targeted at 5% which should result in an approximate income return of 4% to investors after the 0.88% management fee. Over time the property should also deliver capital growth.
Using recent rural farmland research from the Rural Bank Australian Farmland Values Report 2016 historic capital growth was in the vicinity of 6.6%* in addition to rental income.
* Source: Quoted from Rural Bank 2017 Farmland Values Report. Please note the return figures quoted are estimates returns only and cannot be considered as a guarantee of investment performance.
**Source: Contractual arrangement with the tenant.
If you are interested in the Scottsdale, Tasmania Farm, you can join this crowdfunding campaign by completing the application and lodging your investment funds through the Next Generation Farmers Strategy page.