DomaCom GPS is an online financial planning tool that enables you to assess your clients' current position and financial and lifestyle objectives and match a course of action to achieve those financial and lifestyle goals in an easy to understand visual representation and a detailed Statement of Advice.
Visionary cash flow is an essential ingredient missing in many financial plans but is at the core of DomaCom GPS enabling you to create what-if? scenarios using a range of different client, inflation and investment return assumptions and factoring in age pension, taxation, salary sacrifice and gearing strategies.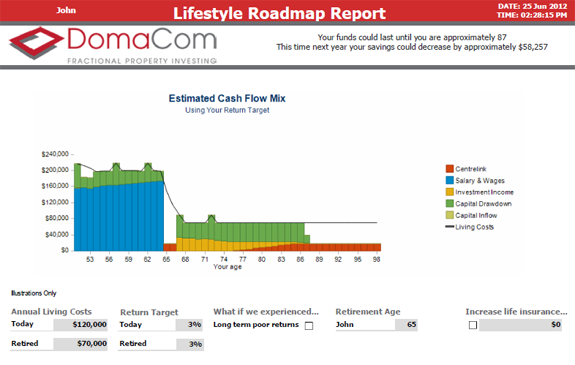 It also provides a full fact process and takes account of single and multiple client goals, expenses and risk management.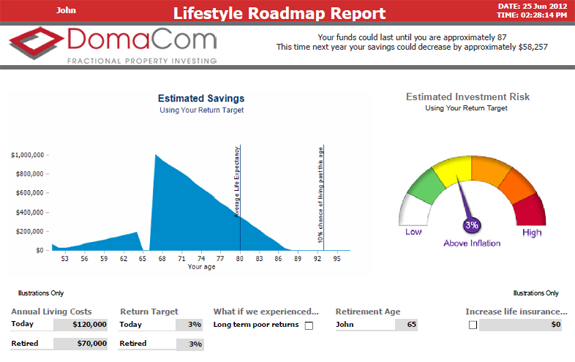 DomaCom GPS is a valuable client engagement and retention tool, with a Lite version for use by your clients if so desired.
As an engagement tool, it can be used to demonstrate the impact that lifestyle decisions may have on your client's future financial position.
As a retention tool, it clearly demonstrates how you can add value by advising on lifetime planning and budgeting, thereby giving you greater control over the client relationship.
In terms of FOFA  DomaCom GPS differentiates your value proposition, focuses on planning rather than products and helps you build a sustainable fee-based business model.
DomaCom GPS helps to distinguish you as your client's trusted adviser.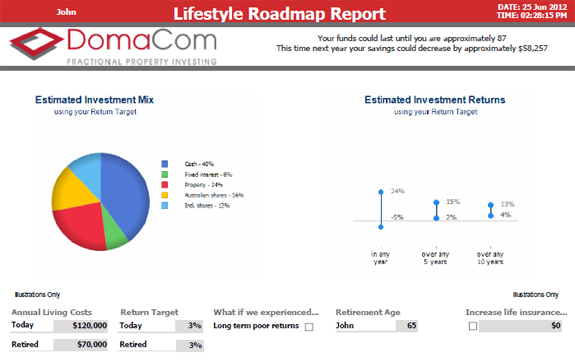 The benefits of the DomaCom GPS include;
a more complete client engagement system that is easily understood,
helps you identify and track your client's goals,
using realistic assumptions it helps you manage client expectations
helps clients accept their risk tolerance and capacity (capacity, as distinct from tolerance, measures actual ability to lose capital),
improves client understanding of the impact of lifestyle decisions on their financial position,
helps position you as your client's trusted adviser,
delivers efficiency in plan preparation,
aids prospect conversion rates
provides an audit trail of client decisions and importantly, the basis of those decisions