STRICTLY FOR DISTRIBUTION ONLY TO LICENSED FINANCIAL ADVISORS, WEALTH

MANAGERS AND PRIVATE WEALTH BANKERS
October 2016
DomaCom Model Portfolios – Diversify with confidence
The DomaCom fractional property fund simulates the experience of investing in real property without the need to purchase an entire property. With DomaCom, you can remove the concentration risk that single property investment presents and offer your clients a real asset allocation solution.
Diversify across cities, and diversify across residential property types.
For a Singapore-based licensed advisor using the DomaCom platform, you do the client asset allocation and then DomaCom makes use of a professional Buyer's Advocate, licensed in Australia, to search and select a model portfolio of properties that meet your client's designated capital growth and income requirements.
One advantage of using DomaCom is that it is a widely-held retail unit trust, currently with over 950 members focussed upon the Australian Self-Managed Super Fund (SMSF) market. A benefit for Singaporeans is that under the DomaCom platform, you can invest in any property anywhere in Australia – you are no longer restricted to new or off-the-plan properties. This means that with the professional assistance of a licensed buyer's advocate, you have the benefit of the selection of the best existing properties based on the historic capital growth and the current market rent.
A model residential portfolio of actual properties bought by one of our panel buyer's advocates is shown below. This has six properties, three in Brisbane and three in Melbourne, with a total capital value of AUD$3.3million. The capital growth is based upon the actual sale and purchase transactions over the last 5 to 10 years. The rental income is the most recent rental price of the property. Therefore, the buyer's advocate is equipped with the knowledge of the property's performance and you as the advisor, may have some confidence of the potential of the property based on that historical information.
The residential model portfolio example below, illustrates overall that it has delivered 8.8% capital growth per year with  a gross rental income yield  of 4.2 %*(see table below).   This is higher than the average figures for Melbourne and Brisbane properties.
This means as a financial advisor you give client advice on asset allocation. The DomaCom platform process, using licensed buyers' advocates, facilitates investment in model portfolios chosen by property experts. Your client gets a fractional property investment in each of the properties selected within the portfolio which is designed to deliver capital growth and income.
Residential Model Portfolio**

Historic 8.8% growth and 4.2% current market rent*

Street &  Suburb
City
Property Type
Asset Value (AUD$)
Actual Weekly Rent **
Actual Gross Rental Yield **
 Asset growth (Historic 5 to 10 years) **
Harcourt Street, New Farm
Brisbane
Apartment
$333,000
$385
6.0%
8.4%
Miles Street, Hawthorne
Brisbane
Town House
$640,000
$575
4.7%
7.9%
Hawthorne Road, Bulimba
Brisbane
Detached House
$745,000
$470
3.3%
9.8%
Ormond Street, Kensington
Melbourne
Semi-detached House
$796,000
$480
3.1%
8.4%
Edinburgh Street, Flemington
Melbourne
Apartment
$390,500
$300
4.0%
7.4%
The Avenue, Spotswood
Melbourne
Villa
$412,000
$335
4.2%
10.7%
Portfolio Asset Total
$3,316,500
Portfolio Averages
 
 
 
 
4.2%
8.8%
Brisbane – Average current market rent (source: Corelogic & ABS)

4.4%
Brisbane – Average annualised growth 7 years (source:  CoreLogic & ABS)
 
1.8%
Melbourne – Average current market rent (source: CoreLogic & ABS)

3.0%
Melbourne – Average annualised growth 7 years (source:  CoreLogic & ABS)
 
7.5%
** Source: DomaCom and one of its buyer advocate partners, Empower Wealth
*Please note that past performance sourced from historical figures is not an indication of future performance. These figures do not guarantee future performance and should not be relied on solely when you make your investment decision.
How does the DomaCom platform work with Model Portfolios?
Step 1: Decide on a real property asset allocation for your client's portfolio and capital growth / income yield requirements.
Step 2: Open an account with DomaCom and transfer the client's funds.
Step 3: Brief DomaCom and in turn brief the licensed buyer's advocate on the model portfolio requirement and total clients' funds available.
Step 4: The buyer's advocate screens and selects the best properties, and these are uploaded onto the DomaCom platform. Using the DomaCom platform you can then allocate client funds to each property, a process we call a 'bookbuild'.
Step 5: When the bookbuild reaches 30%, DomaCom begins its formal due diligence process on each property, e.g. reviews the contracts. At 50% of the bookbuild, formal valuations and property inspections are done.
Step 6: At 100%, DomaCom requests final confirmation from the investors via a Supplementary Product Disclosure Statement (SPDS) that they wish to proceed with the purchase. Once confirmed, the buyer's advocate may then proceed to negotiate and sign the purchase contract(s) on behalf of the DomaCom Fund.
Step 7: Once the properties are settled, a property manager is engaged to find a tenant for and manage the property.
Step 8: The sub-fund holding each individual property is set up for a 5-year term under the Fund's constitution, and each year during that term, DomaCom organises a revaluation of the property.
Exit: To exit an investment in the sub-fund, investors can make use of the liquidity facility and list their units in a sub-fund for sale, where other investors may purchase those units. A 2nd option is if there is a majority vote, investors can vote to wind-up the sub-fund, sell the property and distribute the proceeds. The 3rd option is at the end of 5-year period, each sub-fund has a vote for wind-up or roll-over.

DomaCom now has a lending solution from ThinCats
ThinCats has operations in the UK and Australia. ThinCats operates a peer-to-peer lending platform linking borrowers to investors. ThinCats Australia has recently entered into an agreement with DomaCom facilitating the DomaCom Fund's access to ThinCats' 350 lenders in Australia as a funding solution for DomaCom Fund investors wishing to gear a fractional property investment.
ThinCat's lenders receive a rate of 4.75% p.a., which is quite attractive in the current low interest rate environment.
For DomaCom property sub-funds borrowing money, the rate is 3.5% above the ANZ overnight cash rate which currently puts it at 5.25% p.a. The cost of the facility is 0.5% of the loan amount, and loans must be positively geared with an LVR not exceeding 50%.
The arrangement with ThinCats is an innovative approach offering new options for investors looking to benefit from gains associated with property ownership, whilst earning an attractive fixed income return at the same time.
For example, an investor could lend cash to ThinCats borrowers for a 4.75% return. Another investor could access this loan money at a 5.25%, with up to a 50% loan to value ratio, to make a fractional property investment. The borrower is DomaCom's Responsible Entity so this debt gearing approach does not affect the fractional property investor's credit profile.

Asset Allocation in the current volatile market, what are the choices?
We live in a pretty volatile world in more respects than one, so how are you managing asset allocation for your clients in the current climate?
With interest rates at a record low, volatile currency exchange rates and equities markets, the much-vaunted strategy of diversification should be a key consideration.
As the low cash return environment has a potentially negative real return when you take tax and inflation into account, investors need some sort of short term liquidity, particularly retirees.
Government bonds are also close to an all-time low and fixed interest rates are unlikely to provide sufficient income to outpace inflation, again making this option particularly difficult for retirees.
Apart from individual sector issues, the equities market could present potential earnings issues going forward. Australia's AAA rating may be under threat as we continue to borrow money for consumption instead of investment, particularly in agriculture which could potentially be our biggest export industry.
What about property? There is still plenty of opportunity in property, but for most it is an expensive all- or- nothing proposition unless you opt for a partial investment via an unlisted or a listed property trust. However, if it is residential property you seek, then property trusts are not the answer.
This is where the DomaCom Fund offers a solution. With DomaCom you choose the property you want, list it on the DomaCom platform and start a bookbuild from your client list to acquire it. Using the DomaCom platform, provided you have enough client funds to invest, you can select multiple properties to give your clients a diversified portfolio.
Property is also a relatively stable asset that fits into income or capital growth style portfolios. With help from professional buyers advocates in Australia, they can create a model portfolio matching your asset allocation criteria of income or capital growth.

Case study for an Australian property development – Mt Barker
Situated in the Adelaide Hills, 30km east of Adelaide, Mount Barker is anticipated to become the largest settlement in South Australia outside metropolitan Adelaide in the next decade or so.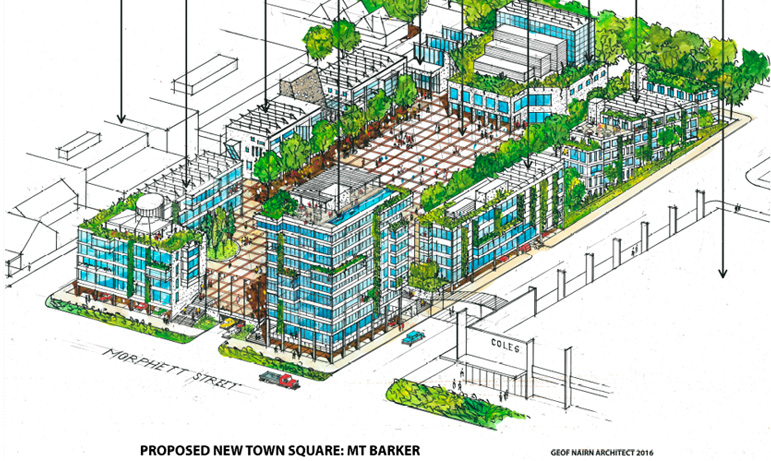 The Mount Barker and District Residents Association (MBDRA) has identified a significant site in the heart of Mount Barker, that they believe will become available in the near future. The Association has developed a plan to create a substantial Town Square to give a 'heart' to Mount Barker.
The Association intends to fund a two-stage development through DomaCom. The Association also hopes to attract local and state government investment into the development. Plans include a civic office, a performing arts centre and gallery, a boutique hotel and retail and residential apartments. The estimated cost is $100m.
Stage 1 – Land Acquisition & Development Approval
The mission in Stage 1 is to acquire the land and obtain development approvals.
| Stage 1 | Targeted funds |
| --- | --- |
| Land acquisition & development approvals | $16 million |
| Estimated value of Stage 1 after completion | $20 million* |
*A potential gain of 20% is estimated for the land component of Mt Barker Town Square development with approvals in place, based on external assessment of the land.
Stage 2 – Construction
The objective in Stage 2 is to raise funds to cover:
Detailed design work
Legal and administrative costs of the tender process to engage contractors
The estimated costs for construction and commissioning
| Stage 2 | Targeted funds |
| --- | --- |
| Construction of the Mt Barker Town Square | $90 million |
| Estimated value of Stage 2 after completion | A return will be determined during the completion of Stage 1 |
For more information on DomaCom's crowdfunding campaign on this project, please visit https://domacom.com.au/syndicated-campaigns/commercial-properties/mount-barker-town-centre-sa/
DISCLAIMER: DomaCom Australia Ltd ABN 33 153 951 770 and holder of AFSL No 444365 is authorised to provide general financial product advice in Australia. Whilst DomaCom has taken all reasonable care to produce the information in this material, it does not make any representations in respect of, or warrant the accuracy, timeliness or completeness of any of the information. The information provided in this material is general information only. It does not constitute financial, tax or legal advice or a forecast. DomaCom Singapore Private Limited is not authorised to provide advice. This information is strictly for distribution to Singapore licensed financial advisors, wealth managers or private wealth bankers only.