STRICTLY FOR DISTRIBUTION ONLY TO LICENSED FINANCIAL ADVISORS, WEALTH MANAGERS AND PRIVATE WEALTH BANKERS
March 2015
Listen to Alan Kohler on DomaCom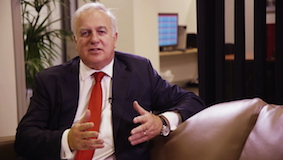 As a trusted source of investment advice to Australians for many years, Alan Kohler, financial journalist and business commentator on the ABC News and founder of Eureka Report and Business Spectator, recently interviewed Arthur Naoumidis, CEO of DomaCom, to demystify fractional property investing and the benefits of the DomaCom Fund.
Enough said, this video clip says it all!

Private Bookbuild: PYD Building, Waterloo, Sydney

The PYD opportunity
This is a unique opportunity to acquire a strategic South Sydney investment with established trading history and stable tenancy mix.
The PYD building is a design driven centre built with the purpose of retailing unique objects and leading brands. The brand "PYD" comes from its location being the on the corners of Phillip, Young and Dank streets in Waterloo.
Location
The corner location in Waterloo, offers the occupants exposure in the heart of the cosmopolitan and sought after Dank Street precinct of South Sydney, only 2.5km from the Sydney CBD. Its proximity to the city, high density residential and business mix makes it the ideal location for bulky retail – i.e. retailers that need a location that is central for their clients and can provide a large enough floor space to display their product.

Public Bookbuilds: Residential Property across Australia
Many of DomaCom accredited financial advisers have expressed an interest in joining a bookbuild for clients but as they have not yet gathered enough client funds, they are unable to complete a private book build.
DomaCom public bookbuilds can help your client to get started in this new era of property investing. The public book portfolio includes Serviced Hotel Apartments, Residential Flats, Residential Houses across Australia. It also includes land and house packages, new property and established property.
Foreign Nationals, using the DomaCom platform, can now invest in second hand real estate assets, in the most desirable of geographical locations.
A number of recent the bookbuilds centred on student accommodation have been snapped up by eager advisers and their clients. These low value properties (sub AUD$200,000) offer up to 8.5% gross yield. We expect another group of student accommodations to come online shortly if this is of interest to your clients.

Foreign national property investors to be charged an additional 0.5% to 1% on Australian real estate
Foreigners love to buy property and that interest includes Australian property. According to the Australian Foreign Investment Review Board (FIRB), China foreign nationals are the leaders and in the year ending 2013 bought AUD$5.9 billion worth of residential real estate.
Very recently, the Australian Treasurer, Joe Hockey, announced a plan to fine foreign national buyers of up to one quarter of the value of the property if they buy a property without FIRB approval. The Government will maintain a register of foreign nationals owning property in Australia and will charge foreign national buyers a once-off application charge:
AUD$10,000 for properties up to AUD$1million in value, effectively 0.5%.
AUD$10,000 for each AUD$1million value above AUD$1million in value, effectively 1%.
There are mixed views in Australia on whether this plan, once implemented, will affect the real estate market in Australia.
In the UK there are annual fees for foreign nationals, resident and non-resident, owning property. Foreign investment review exists in countries like the USA, Singapore and Hong Kong and so Australia is aligning itself with similar policy in other countries.
This plan is to give the FIRB teeth, to better supervise foreign national investment. It will be administrated by the Australian Tax Office (ATO) as it has better data mining and execution capability.
So who buys residential real estate in Australia? According to the 2014 FIRB annual report the top five countries are*:
| | |
| --- | --- |
| Country | AUD$billion |
| China | 5.9 |
| Canada | 4.9 |
| USA | 4.4 |
| Singapore | 2.0 |
| Malaysia and UK | 1.6 |
*Source FIBR Annual Report 2014, year ending 2013.
With the proposed changes, the DomaCom platform becomes an increasingly better way to invest in Australian property.
As DomaCom is an Australian managed investment fund or mutual fund, it is considered an Australian entity. This means foreign nationals who qualify for the investment (either as an 'accredited investor' or an 'institutional investor') can buy fractional property investments, side by side and on the same terms as Australian nationals.
Ultimately, this means greater flexibility – i.e. a foreign national (who qualifies) is able to buy ANY property anywhere in Australia, just like an Australian national and diversify and own 1% to 100% of a DomaCom segregated sub-fund that owns the individual unique property.
It also now means that a foreign national will be able to avoid all of these extra compliance, administration and charges, by using the DomaCom platform.
It should also be noted that there are taxation implications for property investments in Australia.
A quick glance at the ATO website shows that for property rental income, the net taxable income (i.e. after allowable expenses) is at 32.5% for a foreign, non-resident national.
On the sale of the real estate investment, there is also Capital Gains Tax (CGT) applicable, assuming after allowable deductions there has been a capital value appreciation. A net capital gain is included in a taxpayer's assessable income and taxed along with their other assessable income at their highest marginal rate of tax.
The top marginal rate of tax is currently 45%. For Australian nationals and foreign non-residents, up until 2012 there was a 50% CGT discount. However, effective May 8, 2012 this discount ceased to apply to non-residents and temporary residents. Currently the income tax brackets for a non-resident are as follows+:
| | |
| --- | --- |
| AUD$0 – $80,000 | 32.5c for each $1 |
| AUD$80,001 – $180,000 | AUD$26,000 plus 37c for each $1 over AUD$80,000 |
| AUD$180,001 and over* | AUD$63,000 plus 45c for every $1 over AUD$180,000 |
+Sources: FIRB web site and ATO web site
Let's say in a general example, that an AUD$1,000,000 property is held for 7 years and its net capital appreciation after allowable deductions is AUD$280,000. The CGT would now be AU$108,000, effectively a 38.5% tax payment on the taxable gain of AUD$280,000.
If that same property is purchased using DomaCom, the tax payment would be a 15% withholding tax on rental income distribution and on any capital gain on whatever percentage of units owned in the DomaCom sub-fund of the AUD$1,000,000 property.
There would also be less hassle managing the property as a professional property manager will be assigned by the DomCom Investment Manger to perform the task.
It is however, imperative that both foreign and Australian national investors always seek professional taxation advice and property investment advice, before making any investment. None of the above information purports to be, or constitutes taxation advice. It is for general information only.
If you are an Advisory firm please contact Paul Zaman, Managing Director of DomaCom Singapore Pte Ltd, via email: paul.zaman@domacom.com.au or call +65 3158 0487.
In the media
DISCLAIMER: DomaCom Australia Ltd ABN 33 153 951 770 and holder of AFSL No 444365 is authorised to provide general financial product advice in Australia. Whilst DomaCom has taken all reasonable care to produce the information in this material, it does not make any representations in respect of, or warrant the accuracy, timeliness or completeness of any of the information. The information provided in this material is general information only. It does not constitute financial, tax or legal advice or a forecast. DomaCom Singapore Private Limited is not authorised to provide advice. This information is strictly for distribution to Singapore licensed financial advisors, wealth managers or private wealth bankers only.