Campaign Details
Description
An exciting opportunity has emerged for Australian investors to co-invest in a slice of a prime commercial real estate in New York's lower Manhattan and benefit from developer-type returns.
This is an opportunity to invest in a project to complete the renovation of a prime commercial building located at 329-331 Park Avenue South in Manhattan's NoMad District. The Assemblage / Park will feature 35,000 square feet of premium coworking space and 7,000 SF of high-traffic retail space.
The building was recently acquired, and construction will begin shortly. Operations are scheduled to begin in Q1 2019, under Prodigy Network's coworking and co-living brand, The Assemblage.
Kokua, a renowned hotel management firm with over 10 years of experience across the U.S., will oversee operations for the property. Their past clients include industry titans including Starwood, Hilton and Marriott.
After having raised the equity for the closing of the property, Prodigy is now raising an additional US$25 million for the development. This common equity offering will provide an 8% preferred return starting one year after the closing of the property, for a total targeted return is between 12%-16%. The investment period for this offering is 3-4 years.
DomaCom Fund investors are able to participate in the crowdfunding campaign aims to raise at least AUD$2 million to co-invest into this opportunity. As per the normal DomaCom process asset and legal due diligence(DD) will be conducted by the DomaCom Fund as bids towards this campaign reach 50% of the minimum AUD$2 million target.
At the conclusion of the DD and crowdfunding campaign, a Supplementary PDS (SPDS) will be provided to investors with active bids which will be the formal offer to invest in the sub-fund that will house the investment into this opportunity. The SPDS will contain the results of the DD and all relevant features and risks associated with proposed Prodigy investment with some of the key risks being:
Foreign currency risk as the investment will not be hedged
Foreign taxation risks – these will be identified during the DD
Developer Risk
Project borrowing risks
By participating in the crowdfunding campaign your financial exposure will be limited to a proportional share of any due diligence costs until you accept the SPDS offer.
About the Assemblage, Park Avenue South
The Assemblage has been designed specifically for co-working, a worldwide trend in commercial office accommodation.  Co-working is a concept where multiple workspace configurations are rented for days, weeks, or months including specific night-time and weekend rentals.  Members share physical and virtual space and are supplied with the equipment and services of a typical office.
Co-working spaces have emerged as a viable alternative for small businesses, early-stage start-up entrepreneurs with one to twelve employees, and "independent workers," offering a simple and flexible leasing commitment and "big office" amenities typically not available to them.1
Growth in this area has come not only from entrepreneurs and freelancers, but industry-leading companies – such as General Electric, Merck, KPMG, and The Guardian—have opted to sub-let flexible office space with increasing regularity to complement their traditional offices.2
In the past four years, the worldwide supply of co-working spaces experienced a 62% annual growth rate in square footage, which reflects a slower pace than that of demand.3
Sources:
1. FTI Consulting. 2015. Market & Financial Feasibility Study. FTI Consulting Group.
2. Patrick Clark, 2016. Coworking Spaces Are Going Corporate. Bloomberg.
3. Carsten Foertsch, 2015, First Results of the New Global Coworking Survey. Deskmag
Location: NoMad, Manhattan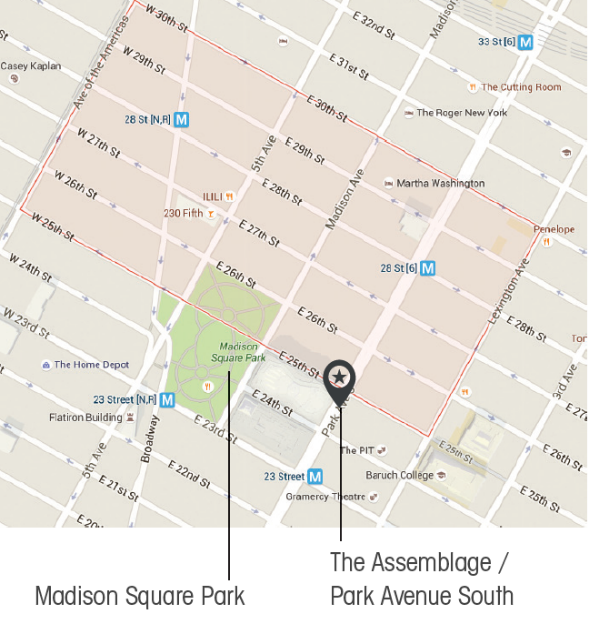 The Assemblage is located in the NoMad (North of Madison Square) district, one of Manhattan's most thriving neighbourhoods.  Filled with tech and media companies, restaurants, and boutique hotels, the Assemblage is easily accessible thanks to its proximity to transport.  NoMad is a neighbourhood in lower Manhattan, an area that has successfully transitioned from light manufacturing to office use in the last 35 years.  As a result, lower Manhattan has emerged as one of the most desirable Manhattan office sub-markets over the past five years.
As part of the area known as "Silicon Alley," the NoMad neighbourhood is filled with emerging and established technology, advertising, media, and information companies, also known as TAMI.  The neighbourhood is already home to high-profile tenants including BuzzFeed2, Tumblr, Credit Suisse, and General Assembly. Just south of the property, Facebook has recently increased its New York headquarters at 770 Broadway to 335,000 square feet.2 
The Assemblage in Park Avenue South is in the ideal location for a co-working facility, close to flourishing residential and business districts and high-quality lifestyle amenities including Madison Square Park, and a host of restaurants.  In addition, a host of nearby transit options allows for quick travel throughout Manhattan.3
Sources:
1. FTI Consulting. 2015. Market & Financial Feasibility Study. FTI Consulting Group.
2. Built in NYC, 2016, An exclusive first look at BuzzFeed's new NYC headquarters. Built in NYC.
3. Daniel Geiger, 2016, Facebook expands office, becomes this building's largest tenant. Crain's New York.
Innovative Concept & Design
The Assemblage in Park Avenue South is a 12-floor project that will encompass 37,000 square feet of beautifully designed and functional collaborative workspace.  This location will feature different food and beverage options such as:
Penthouse Bar
Juice Bar
Restaurant and private dining room
The property will also offer different types of common spaces for member use, such as:
Meditation Room
Projection Room
Library
Outdoor Terraces
Private Event Spaces
Membership to The Assemblage in Park Avenue South grants access to all current and future Assemblage locations in NYC. Two other properties are currently in development:
The Assemblage in 17 John St, Financial District
The Assemblage in 25th Street, NoMad
Next Steps
Complete the Application Form after reviewing the DomaCom Fund PDS and then register your interest on the Prodigy crowdfunding campaign using the online DomaCom Platform.
A detailed Supplementary PDS (SPDS) will be provided to prospective investors of the campaign when the target raising and the associated due diligence have been completed.  This SPDS will be the formal offer to invest in the project.
 If you are new to DomaCom, click on the Apply button below to begin your application.  If you are an existing DomaCom Fund investor, you can log in to access your account and all the other public crowdfunding campaigns by clicking the Investor Login button below.