Campaign Details
Description
Solar, Anyone, Anywhere:
– welcome to owning solar generation……
Build Solar Now,
Create Solar Assets,
Create Solar Income,
Stop Coal Now
2.7MW Jersey St Solar Platform (JSS), Bomen, Wagga Wagga, NSW, Australia, 2650
A 25-year revenue stream from electricity and renewables, with the opportunity to add value through direct behind the meter power sales, as well as battery and further development options.
A Global Solar Farm (GSF) Project – www.globalsolarfarms.com.au
Electric Future?  Solar: simple income-earning asset & saves the climate?
Do you think owning solar assets will be as common as owning investment properties?
Do you think renewable energy technology will be embraced by the world?
Do you think solar energy is going to be a large industry?
Do you want to be part of the energy technology revolution?
Do you want an investment that focuses on 25 years of yielding income?
Do you want to own a share of grid-scale battery facility?
Do you want to have a share of the energy utility industry in your portfolio?
Do you think the community should own a share of energy assets?
If the answer is yes to any of the above questions then this is a project you will want to know about.  Solar should be simple – contact us if you have any queries.
JSS capital raising stage 1 – $5.335m – see below for Stage 2, 3 & 4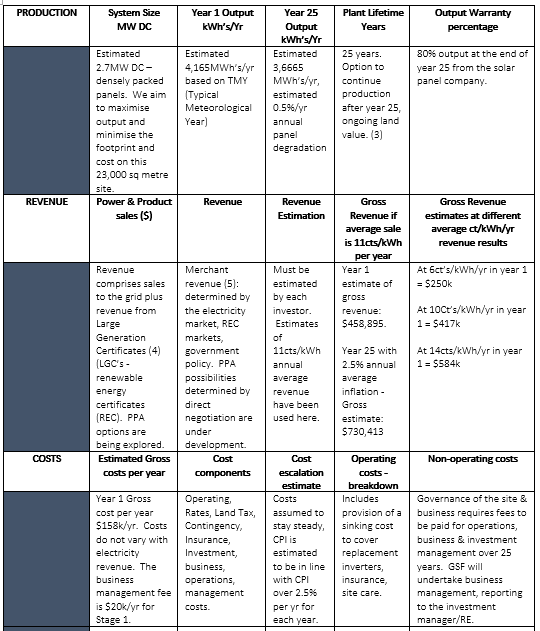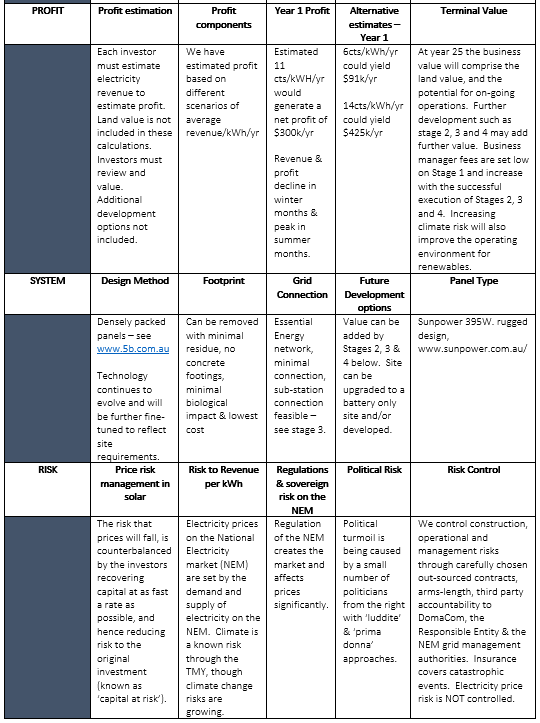 Investor Responsibility and Explanatory Notes
The following notes explain some underlying concepts in the Australian National Electricity Market (NEM), and solar technology. We have provided some web links, of varying sophistication, for more information.
Investors are responsible for their own research and for validating our information presented above. This applies to all circumstances.
1. TMY. Stands for Typical Meteorological Year and is a concept used to benchmark solar plants, amongst other uses. See the Typical meteorological year
2. Annual panel degradation – Sunpower provide a short explanation
3. Panel value at 25 years. Panels can keep producing beyond the warranty life. The DomaCom platform accommodates that long-term investment consideration.
4. Large Generation Certificates. See this from the Australian Government's Clean Energy Regulator
5. Merchant connection. Merchant connection refers to plants that connect to the grid, without a PPA (power purchase agreement), are paid on a monthly basis for the power they produce.
6. Acronyms. Commonly used in the solar/electricity industry. This is a simple list – PPA = power purchase agreement, RE = Responsible Entity, NEM = National Electricity Market, REC's = Renewable Energy Certificates, LGC's = Large Scale Generation certificates.
Capital Raising Process and follow on stages
We have proposed to develop the JSS platform in four stages or modules.
Each stage will only be undertaken if the previous stage is:
1.  commissioned:
2.  the new stage is estimated to be profitable; and
3.  the new stage is supported by the required documentation (eg PPA's); and
4.  the capital for the new stage is raised in advance.
5.  Stage sequence may be shuffled if the circumstances alter.
The following table summarises stage rollout of the JSS platform.
Four Stages of JSS solar platform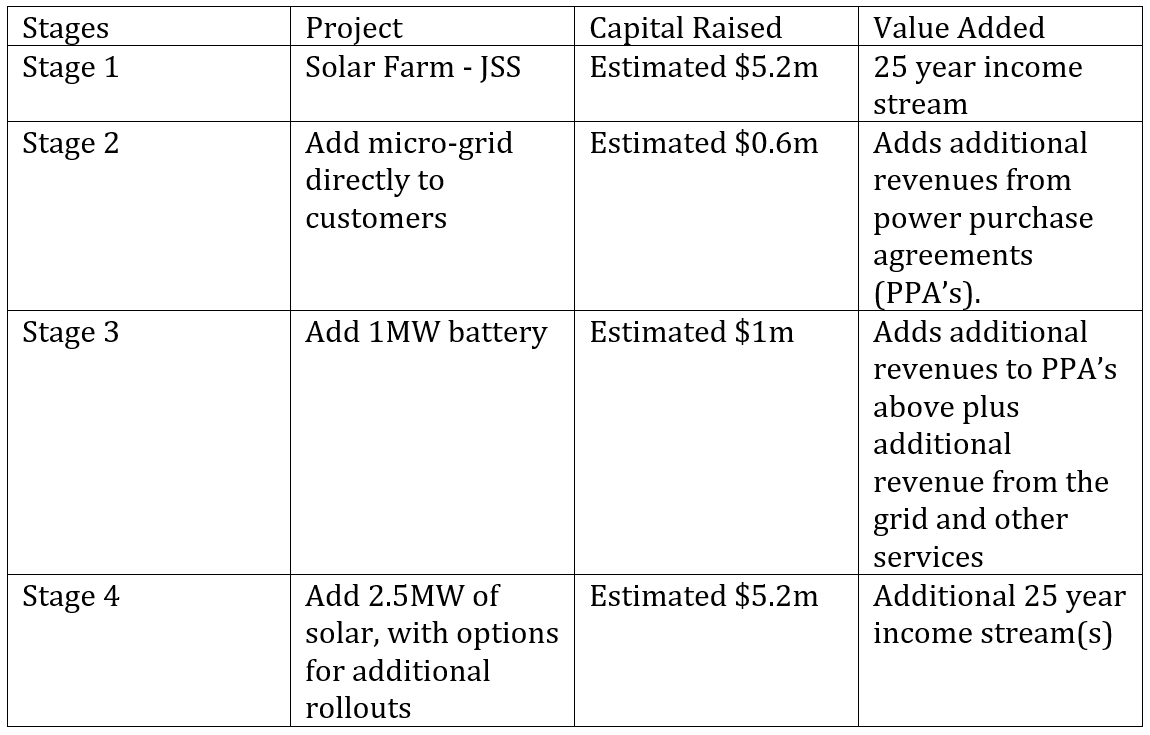 We expect the JSS platform should grow organically, incrementally adding capacity as each opportunity is developed, and the new renewable NEM grid is enabled by AEMO (https://www.aemo.com.au/) as the grid management authority.
If sufficient capital is raised to build stage 1, we will commence the DomaCom process for constructing stage 1. Meanwhile, the capital-raising process will continue to source capital for the subsequent stages, once again subject to DomaCom's rules and processes. This may require a vote by Stage 1 MIS unitholders.
At the point when stage 2 capital raising commences or as documentation becomes available, we will supply further information to support Stages 2, 3 and 4, which are presently under ongoing development. Interested parties are welcome to contact DomaCom or GSF at any point. Stages may also be developed in separate MIS's though at this time we expect all four stages to be developed in the existing MIS.
Capital Acceleration 'Early Bird' program – Don't be late, we can't wait!
The project has been in development for more than two years during a time of strong electricity prices. We think it is time to get this project commissioned quickly.
We have created a capital accelerator program for JSS Stage 1.
Early bird investors who step in and lodge a bid for the first $1m will receive an additional 10% of units, taken from the developer's margin. Such investors must also complete their bid by committing capital in a timely manner when the specific offer is received. Investors in the second $1m will receive a lift in units by 5%, also taken from the developer's margin. Units will be awarded on a first-come, first-served basis.
Events, Discussions and Presentations
Events and presentations can be organized to present this opportunity to interested groups. Please contact DomaCom for the first contact.
Contact Details
Since the DomaCom proposal is regulated as an investment, DomaCom will field all enquiries in relation to the investment.
General feedback, suggestions, improvements and technical questions can be emailed or written on the GSF website. Or emailed to GSF at jot@globalsolarfarms.com.au
Next Step
If you would like to invest in the JSS Platform you can join this crowdfunding campaign by completing the application and lodging your investment funds through this General Advice page.  Please ensure that you first read the DomaCom Fund's Product Disclosure Statement (PDS).  For a copy of the current PDS, please click here or call your financial adviser.
When you have lodged your bid and the campaign is filled, you will also receive a Supplementary Product Disclosure Statement (SPDS) outlining the specific offer to invest in the JSS Platform project which will contain all the information required for you to make a decision. You are not bound to proceed with your bid amount for this JSS Platform crowdfunding campaign until you accept the offer contained in the SPDS (which will include the specific details for the properties).
If you are new to DomaCom, click on the Apply button to begin your application.  If you are an existing DomaCom Fund investor, you can log in to access your account and all the other public crowdfunding campaigns by clicking the Investor Login button.
Risks for Property Sub-Funds
Risks
Refer to Section 7 of the Risk section of the PDS for an explanation of the risks involved in an investment in the DomaCom Fund and the general risks associated with property markets.
Specific risks of this investment:
• Property not acquired – If there is insufficient investor interest the property will not be acquired however Investors with an Active Bid will all be proportionately liable for the Campaign Costs. A list of approximate campaign costs is set out below.
• Value changes – The value of an Investor's investment will go up and down in accordance with the value of the Underlying Property. There is no guarantee that the value of the investment will increase, and it may in fact decline in value.
• No guarantee – Returns are not guaranteed, and Investors may lose some or all of their capital. The nature of this investment is to expect an appreciation in the value of the units, with little to no income to be paid to investors during the term of the investment. There is no guarantee that this expectation will be fulfilled.
•Past performance – While this area in which the underlying property is based has experienced capital growth in the land value in the past, this is no indication it will increase in value in the future.
• Liquidity risk – An Investor cannot withdraw from the Sub-Fund until the Sub-Fund is terminated, and the Underlying Property is sold. DomaCom does intend to offer a facility through which Investors can seek to sell their Units to another party, however, there is no guarantee of this.
• Damage or loss – There is a range of events that can damage the Underlying Property including acts of God (fire, flood, earthquake and other natural disasters) through to accidents, negligence, and failures of maintenance. While insurances will be in place it may not cover or may not fully cover such losses.
• Insufficient income – The costs associated with Underlying Property may exceed its income, however, if there is a shortfall Investors will be given an opportunity to subscribe for additional Units in the Sub-Fund to meet those expenses pro rata to their Unit holding in the Sub-Fund. Investors who don't subscribe for further units will have their investment in the Sub-Fund diluted.
• Vacancy risk – a property manager will be appointed to manage the property and secure tenants to tenant the property and derive income from the underlying property. If tenants are not secured there is a risk that the property will not generate the income that has been budgeted for. If this were to occur the investors may be required to raise further funds to offset the expenses of running the property.
• Unexpected property event – The risk that the Underlying Property may be negatively impacted due to a property-specific event, for example, a change could occur to local zoning rules, development of competing and other events that were not anticipated at the time of acquisition.
• Economic risk – There is a risk that the general economic conditions in Australia may change in relation to interest rates, employment rate and economic growth that could, in turn, have an impact on the Property market and specifically the value of the Underlying Property.
Fees and Costs
Refer to section 13 of the PDS for Fees and Other Costs
The Management Fees for managing your investment
Cash held in your Cash Account 0.22% p.a.
Property Sub-Fund 0.88% p.a. of the Gross Asset value of your investment
Loan Sub-Fund 0.44% p.a. of the Gross Asset value of your investment
Campaign Costs
Set out in the table below is an illustration of the campaign costs that are likely to be incurred. An Investor who participates in a Campaign and has had an Active Bid which fails to result in the formation of a Sub-Fund will be liable (in a proportion that is equal to the amount of their bid divided by the sum of all Active Bids at the time the Campaign costs were incurred) for the Campaign costs incurred by DomaCom. The investors will be only liable for Campaign costs and Acquisition costs that are set out below if the Sub-Fund was not created, as these costs have been incurred prior to the acquisition of the property.
The settlement costs set out below are only incurred and payable if the Sub-Fund is created and the property acquired.
If the Sub-Fund is established, these costs will be deducted from the Sub-Fund and only those investors that accept the SPDS will incur the on boarding costs – Campaign, Acquisition and Settlement costs.
The costs below are an example of the campaign costs, the actual costs may differ and will be set out in the SPDS.
| | |
| --- | --- |
| Campaign Costs | Estimates |
| Contract review and title search | $500-$1000+GST |
| Building inspection and pest report | $500-$1500+GST |
| Property valuation report | $500-$5,000+GST |
Acquisition costs
The following costs will be incurred, whether or not the property is purchased.
| | |
| --- | --- |
| Acquisition costs | Estimates |
| Legal costs (if contracts require further amendments | $2,000-$2,500+GST |
Settlement costs
Below is an estimate of the following Settlement costs if the purchase is successful and a Sub-Fund is created. These costs will only be incurred if the Property is purchased and will be paid from the capital raised on the acceptance of the SPDS.
| | |
| --- | --- |
| Estimated Settlement Costs | Estimates |
| Conveyancing costs | $1000 – $2,500+GST |
| Stamp Duty | Varies based on state and Property Value |