Campaign Details
Description
Investment Highlights
Asset: 100 MW Solar Farm (share of ownership)
Structure: Units in Genius Energy Managed Investment Trust, managed by DomaCom
Amount: 146 Million units
Issue Price:
Stage One – 6 Million units @ $1.00 This stage acquires the land, completes all necessary development and connection agreements
Stage Two – 140 Million units @ $1.27 This stage is for construction of the solar farm
Return: targeted 15% per annum
Return structure: Returns available as either direct offset to energy bill (requires retail electricity account with Genius Energy) or as distributed, taxable income based on actual returns
End Value: Unit price upon full operational status targeted at $1.50 per unit. This would provide a final solar farm value of $219million
Regulated by: ASIC, AEMO
Eligible entities: SMSF, Individual, Superannuation fund, Corporate, Trust.
*Note: SMSF and super funds ineligible to take returns in the form of energy offset.
The benefits of Solar Power
The environmental benefits of solar power are well known.
Solar power:
Is infinitely renewable
Highly reliable
Generates clean energy
Has very low maintenance costs
Will save money on power
But:
Traditional rooftop solar systems are not transportable if you move from the property where it is installed
When installed on an investment property it will be the tenant rather than the owner who benefits from the power savings
If you live in an apartment or are a renter you generally can't get solar panels installed
Where you live is unlikely to be the most efficient place to 'harvest' solar energy. For example, based on Bureau of Meteorology data, Solar energy in Melbourne is 31% lower and in Sydney 23% lower than where the solar farm will be located.
The solution:
Invest in Genius Energy Solar Farm.
Why investing in Genius Energy Solar Farm?
Ownership of solar energy in a farm delivers more energy per dollar invested than traditional, city-based, rooftop.
You are not constrained by the size of your rooftop. You can acquire as much solar energy capacity as you require.
Regardless of where you live, the type of accommodation, or whether you own or rent this solar investment will be yours wherever you go.
If your power requirements change you can buy more solar units, sell some of your units on the secondary market or transfer the power credits to another party.
Know that you are contributing in a positive way to a cleaner and greener environment.
Who should invest in Genius Solar Energy?
If you or your business is a consumer of electricity, then you can invest in Genius and receive the benefits of producing your own clean energy, and let's face it, who does not consume electricity these days? Electricity is the oxygen of the modern economy. Everything our economy does relies on electricity, including the technology you are using to read this website! So be part of the transition to a clean future, by powering yourself to a clean future.
You can invest through your super fund, or invest directly and enjoy the triple benefits of:
• Financial return
• Social return
• Environmental return
Triple Benefits – Financial, Environmental and Social:
Financial
● The targeted pre-tax yield of 15% annually on all generating units
● Extremely tax-efficient if returns are taken as energy offset
● Lifetime of cheap electricity whilst investment held
● Units can be traded in a similar manner to shares on the ASX
● Consume the electricity generated or receive attractive dividends
Environmental
● Zero carbon electricity
● Carbon offset
● Saves water and the environment by not using coal or gas
Social
● Become a zero-carbon global citizen
● Own your own Solar Farm
● Creates jobs in the renewable energy industry
● Leave a better world for your children and grandchildren
Invest or Consume?
A typical household will consume around 30 kWh of electricity per day.
Solar panels on the Genius Energy Solar Farm will generate at 6 sun peak hours per day. This is based on the Bureau of Meteorology data for the past 30 years coupled with sun-tracking technology to optimise solar collection.
By comparison, Melbourne solar collection on static rooftop panels averages 4.1 hours per day and Sydney 4.6 hours per day and few, if any, rooftop systems will include sun-tracking panels.
To offset average power usage over a year an investor would need to buy the equivalent of 5kW of solar panels to generate their own electricity. (5kW solar panels X 6 sun peak hours = 30 kWh of electricity.)
Buy your 5kW of solar panels equivalent in units
● Stage One $1.00 per unit (Planning and Development) – $7,300 ($1 x $1.46 per kw x 5kw)
● Stage Two $1.27 per unit (Build) – $9,271 ($1.27 x $1.46 x 5)
● Stage Three $1.50 per unit (Operation) – $10,950 ($1.5 x $1.46 x 5)
Investors could be:
Individuals who like the idea of owning solar energy but due to renting, apartment living or owning investment properties installation of their own solar panels is either not possible or not beneficial
Homeowners living in areas with sub-optimal solar energy generation potential – eg coastal areas with high average cloud cover, or city areas shaded by trees or buildings
Investors looking for a competitive return on their money whilst also recognising the long-term benefits to society of clean, virtually limitless renewable energy
Super funds looking for a great return on investment and a diversification away from other traditional, often volatile sectors such as the equity market
Homeowners living in areas with sub-optimal solar energy generation potential – eg coastal areas with high average cloud cover, or city areas shaded by trees or buildings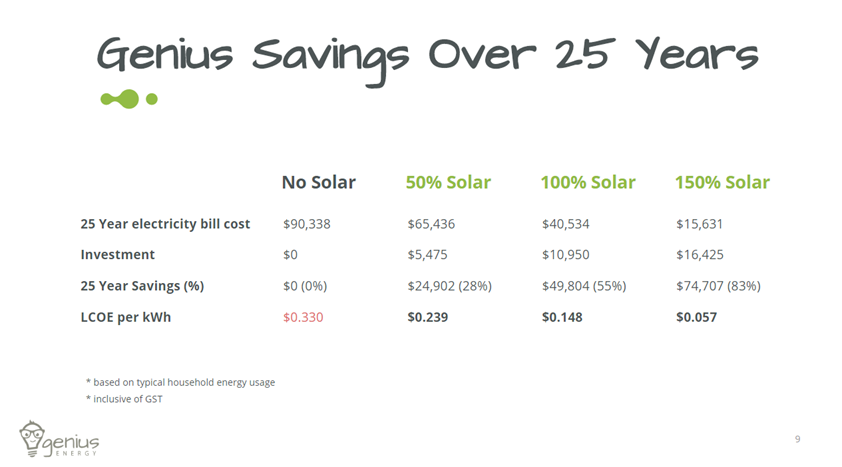 Next step
If you would like to invest in the Genius Energy – Solar Farm project, you can join this crowdfunding campaign by completing the application and lodging your investment funds through this General Advice page.  Please ensure that you first read the DomaCom Fund's Product Disclosure Statement (PDS).  For a copy of the current PDS, please click here or call your financial adviser.
When you have lodged your bid and the campaign is filled, you will also receive a Supplementary Product Disclosure Statement (SPDS) outlining the specific offer to invest in the Genius Power – Solar Farm project which will contain all the information required for you to make a decision. You are not bound to proceed with your bid amount for this Genius Power – Solar Farm project crowdfunding campaign until you accept the offer contained in the SPDS (which will include the specific details for the properties).
If you are new to DomaCom, click on the Apply button to begin your application.  If you are an existing DomaCom Fund investor, you can login to access your account and all the other public crowdfunding campaigns by clicking the Investor Login button.
Risks for Property Sub-Funds
Risks
Refer to Sections 7 and 12 of the Risk section of the PDS for an explanation of the risks involved in an investment in the DomaCom Fund the features of a 'Special Opportunities' subfund.
Specific risks of this investment:
• Value changes – The value of an Investor's investment will go up and down in accordance with the value of the Underlying Investment. There is no guarantee that the value of the investment will increase, and it may in fact decline in value.
• No guarantee – Returns are not guaranteed, and Investors may lose some or all of their capital.
•Past performance – There is no empirical data on the performance of this type of investment in the proposed location. All projected returns are based on best analysis of the current wholesale and retail energy markets.
• Liquidity risk – An Investor cannot withdraw from the Sub-Fund until the Sub-Fund is terminated, and the Underlying Property is sold. DomaCom does intend to offer a facility through which Investors can seek to sell their Units to another party, however there is no guarantee of this.
• Damage or loss – There are a range of events that can damage the Underlying Property including acts of God (fire, flood, earth quake and other natural disasters) through to accidents, negligence, and failures of maintenance. While insurances will be in place it may not cover or may not fully cover such losses.
• Insufficient income – The costs associated with Underlying Investment may exceed its income, however if there is a shortfall Investors will be given an opportunity to subscribe for additional Units in the Sub-Fund to meet those expenses pro rata to their Unit holding in the Sub-Fund. Investors who don't subscribe for further units will have their investment in the Sub-Fund diluted.
• Vacancy risk – Genius Energy will be appointed to manage the property and derive income from the underlying property and its improvements. There is a risk that the property will not generate the income that has been budgeted for. If this were to occur the investors may be required to raise further funds to offset the expenses of running the property.
• Unexpected property event – The risk that the Underlying Investment may be negatively impacted due to a property specific event, for example, a change could occur to local zoning rules, development of competing and other events that were not anticipated at the time of acquisition.
• Economic risk – There is a risk that the general economic conditions in Australia may change in relation to interest rates, employment rate and economic growth that could in turn have an impact on the investment and energy markets and specifically the value of the Underlying Property.
Fees and Costs
Refer to section 13 of the PDS for Fees and Other Costs
The Management Fees for managing your investment
Cash held in your Cash Account 0.22% p.a.
Investment Sub-Fund 0.88% p.a. of the Gross Asset value of your investment
Loan Sub-Fund 0.44% p.a. of the Gross Asset value of your investment
Campaign Costs
Set out in the table below is illustration of the campaign costs that are likely to be incurred. An Investor who participates in a Campaign and has had an Active Bid which fails to result in the formation of a Sub-Fund will be liable (in a proportion that is equal to the amount of their bid divided by the sum of all Active Bids at the time the Campaign costs were incurred) for the Campaign costs incurred by DomaCom. The investors will be only liable for Campaign costs and Acquisition costs that are set out below if the Sub-Fund was not created, as these costs have been incurred prior to the acquisition of the property.
The settlement costs set out below are only incurred and payable if the Sub-Fund is created and the property acquired.
If the Sub-Fund is established, these costs will be deducted from the Sub-Fund and only those investors that accept the SPDS will incur the on boarding costs – Campaign, Acquisition and Settlement costs.
The costs below are an example of the campaign costs, the actual costs may differ and will be set out in the SPDS.
| | |
| --- | --- |
| Campaign Costs | Estimates |
| Contract review and title search | $500-$1000+GST |
| Building inspection and pest report | $500-$1500+GST |
| Property valuation report | $500-$5,000+GST |
Acquisition costs
The following costs will be incurred, whether or not the property is purchased.
| | |
| --- | --- |
| Acquisition costs | Estimates |
| Legal costs (if contracts require further amendments | $2,000-$2,500+GST |
Settlement costs
Below is an estimate of the following Settlement costs if the purchase is successful and a Sub-Fund is created. These costs will only be incurred if the Property is purchased and will be paid from the capital raised on the acceptance of the SPDS.
| | |
| --- | --- |
| Estimated Settlement Costs | Estimates |
| Conveyancing costs | $1000 – $2,500+GST |
| Stamp Duty | Varies based on state and Property Value |