DomaCom Newsletter – September 2015
What's stopping you?
There's an old saying that if you continue to do what you have always done you'll continue to get the same result you have always got. Therefore, you need to change something in your approach or your business process to get a different, and hopefully better, result.
Property is a major asset class
For a financial adviser, this may mean adjusting your service offering to expand your client reach, or introducing new or different products or asset classes to what you have traditionally offered.
The DomaCom Fund offers the benefit of both with the result that you can increase your fee basket, nurture the next generation of clients whilst looking after their interests and protecting them from unscrupulous salespeople, which will also protect your FUA.
Multi-property portfolio approach
The property asset class through the DomaCom Fund now gives you the ability to offer a diversified portfolio containing several properties, different types in different geographic locations.
This strategy, like an equities portfolio, will spread risk and ensure that at the very least there are always parts of the portfolio that are performing. Because the portfolio is cash funded, there is no risk from any underlying debt and the chances of all the properties in the portfolio being untenanted at the same time are virtually nil.
For those who want a geared fractional property investment solution, DomaCom is currently developing a leveraged facility.
Nurture tomorrow's client base today
You can use the DomaCom Fund to attract Gen Y clients, perhaps the children of your clients,  who prefer property to equities and ease them into a portfolio with as little as $2,500. As their savings grow within a portfolio of properties, you have the ability to engage them with other products and services.
Recent research indicates that Gen Ys are into a property at a far younger age than Gen X and baby boomer cohorts and in fact generally purchase an investment property before they purchase a home.
So too, retirees looking for income from small commercial or student accommodation property portfolios that deliver above average rental yields.
Protect your clients from property spruikers
Don't give your clients a way to property marketers and risk your funds under advice, or more importantly, allow your clients to purchase over-priced developments in areas where a glut may develop down the track.  Get on the front foot.
The DomaCom Fund is a registered Managed Investment Scheme (MIS). As such, it is a structure that you can readily recommend, provided it is on your Approved Product List (APL).
The underlying properties can be recommended for you by a qualified property adviser of your choice.
Spring Financial Group's multi-property portfolios

Following Spring Financial Group's approval of the DomaCom platform a couple of months ago, we have been working closely with them to finalise their property portfolio offerings.
Spring Financial Group's expertise in direct property investing is well known and we are delighted they see the merits of the fractional ownership approach.
Diversification is the backbone of modern portfolio theory and Spring Financial Group have assembled more than 50 brilliant capital city properties in a series of boutique and landmark projects by some of the countries most experienced and best-regarded developers and packaged them into portfolios of 5, 10 and 15 properties each.
Each portfolio will consist of properties in leading inner-city geographic locations. In this way, portfolios can both maximise upside and minimise downside by spreading the investment and so your clients can avoid having all your eggs in one basket.
To meet the needs of the Spring multi-property portfolio bookbuilds, DomaCom has upgraded the platform technology to make it easier for financial planners to bookbuild multiple properties simultaneously.
Stay tuned for more information on Spring Financial Group's property portfolios. This capability will be opened and available for a public bookbuild in September.
In the meantime, interested advisers who would like further information about how their clients can access Spring's diversified model portfolios should contact us directly or contact Spring's group general manager Mitchell Ansiewicz at mitchell.ansiewicz@springFG.com.
DomaCom welcomes new Non-Executive Director

Peter Church OAM has joined the Board of DomaCom Australia Limited.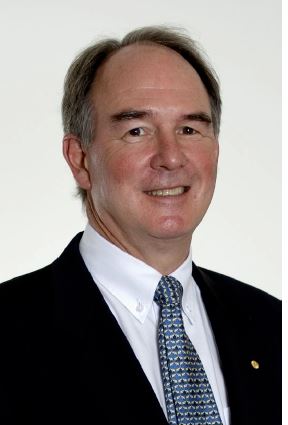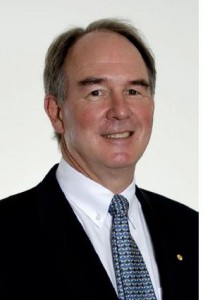 Mr Church has had an outstanding career much of which has been spent in South East Asia where he has implemented strategies for investors and those seeking to develop and carry on business, as well as other related corporate advisory activities. His knowledge and experience will prove invaluable as DomaCom expands into Asia with our first office having opened in Singapore earlier this year.
Upcoming events
You have probably heard a lot about crowdfunding in the media. INITIATE is running their second Australian event to explore the phenomenon of Crowdfunding – 21st Century Finance. This summit will be held in Melbourne on Friday 11th September 2015 in conjunction with Deakin University and the Crowdfunding Institute of Australia.
Global and Australian experts, including Arthur Naoumidis – DomaCom CEO, will provide the latest information about this revolutionary method of fundraising. We are pleased to offer you a discount by entering the code "Guest10" should you wish to attend: https://www.eventbrite.co.nz/e/initiate-crowdfunding-australia-summit-tickets-17916476664.
AFA National Adviser Conference
DomaCom is a proud sponsor of the AFA National Adviser Conference that will take place in Cairns on 25th to 27th October 2015.
This year's focus will be on Connecting Knowledge with Performance. The professional development curriculum specifically addresses the significant challenges and opportunities which advisers are currently facing. Advisers will showcase their best practice in plenary and the focus sessions.
You can find out more about the DomaCom fractional investing model at our stand, number 91. We look forward to meeting you there.
Which experts should clients engage when investing in property?
Australians love property! Just as most people wouldn't seek advice from friends about heart surgery if they weren't a surgeon, it is important to realise that the same level of awareness should apply when investing hundreds of thousands of dollars in property.
It's therefore also important as Advisors when working with your clients, that you help them to understand that risk mitigation is factored into establishing a property portfolio and that engaging experts is part of the process.
Investors should think of property investing as a business – where their team of experts all form part of the success of that business. Independently, they help them to maximise the investment opportunity, minimise tax and/or risk, while collectively they combine their expertise to increase your success multi-fold.
If they were building a house, they would need expert advice to ensure the foundations, concrete, frame, bricks and mortar were sound and kept their house standing strong and upright. There would be significant consequences if they found out the concrete was too thin and the mortar too weak AFTER the house has been built! The same applies when engaging experts to help them in the property investing process. After they have purchased the property, it's too late for these experts to help.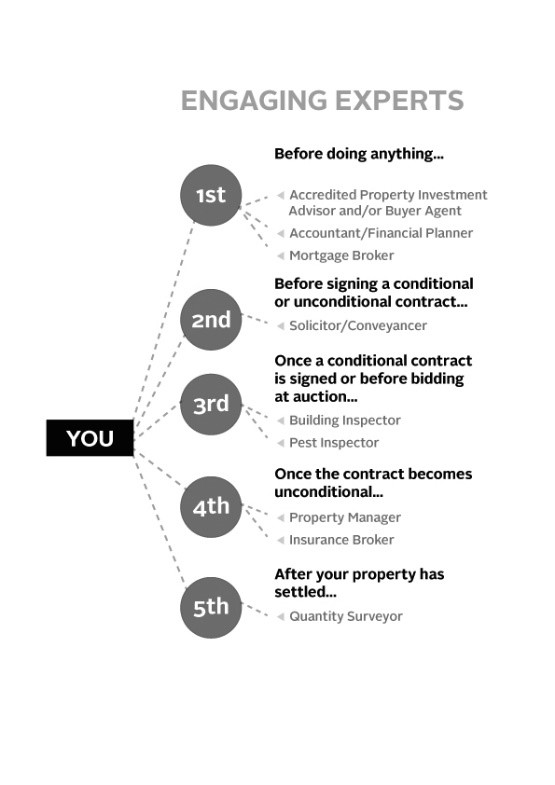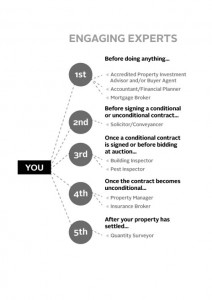 © As you can see in the chart,  clients need different experts to be engaged at different stages, and some of them need to be engaged simultaneously. The chart shows they will usually need nine professions to ensure their property transaction is sound – and all their experts will play a very important role.
As with any business, they should seek out the best experts available who specialise in working with investors to successfully build a portfolio.
Why? Because they need to step into the future with them and consider all of the implications – how big they want to build their portfolio, what type of properties they will buy, which strategies they will use and who will benefit financially and when – so that they can provide the correct advice, planning and structuring in advance.
Why in advance? Because after the purchase, it is TOO LATE!
About Miriam Sandkuhler
Some of the article content is extracted from the book Property Prosperity – 7 Steps to Buying Like an Expert by Miriam Sandkuhler © 2013, with the author's permission.
Miriam Sandkuhler is the founder of Property Mavens – a specialist property advisory firm based in Melbourne.  
Unlike most 'Property Advisors', Miriam is an Accredited Property Investment Advisor (PIAA), Licensed Estate Agent and REIV member and multi-award nominated Buyer Agent, with 15 years of real estate experience in two States. She is also the author of the book Property Prosperity.
Miriam and her team excel at identifying high-performing property that delivers strong returns and stable tenants, while strategically building a client's portfolio with high capital and income growth property. She has a strong track record helping investors and home buyers and believes education is the key to empowering people on their journey to achieving their goals.
In the media
DISCLAIMER: DomaCom Australia Ltd ACN 153 951 770 is the holder of an Australian Financial Services Licence (AFSL) 444365 and is authorised to provide general financial product advice, to deal in certain financial products and to make a market in units in sub-funds of the DomaCom Fund ARSN 167 020 626. Whilst DomaCom has taken all reasonable care to produce the information in this material, it does not make any representations in respect of, or warrant the accuracy, timeliness or completeness of any of the information. The information provided in this material is general information only. It does not constitute financial, tax or legal advice or a forecast. This information has been prepared without taking into account your personal objectives, financial situation or personal needs. Before acting on the information or deciding whether to acquire or hold a financial product, you should consider its appropriateness. It is recommended before making any investment decision, that you seek independent financial advice and read the relevant Product Disclosure Statement (PDS) and any Supplementary Product Disclosure Statement (SPDS) available on the DomaCom Ltd website, www.domacom.com.au, or by phoning 1300 365 930.