DomaCom Newsletter – August 2014
Welcome to DomaCom's monthly newsletter.  We look forward to bringing you a wealth of information on fractional property investing that will assist you in providing a more comprehensive and sophisticated investment solution for your clients. We would love to hear from you.  After all, your feedback and your questions can only improve our services. Email us at sales@domacom.com.au.

DomaCom completes first property book builds
Introducing some of the equity market concepts to property, DomaCom launched its fractional property investment platform in May 2014 on the back of a 2 ½ year development and approval process. By going live the DomaCom Fund became the world's first fractional property fund combining online property listing facilities with online booking execution functionality.  A property is no longer an all or nothing proposition. The DomaCom Fund heralds a new era for property investing.
We congratulate Sydney financial planning firm, Shartru Wealth Management, who has just completed the first book builds in the DomaCom Fund to crowdfund the first private property syndicates, with another book, builds underway. Using the DomaCom Fund, Shartru has introduced 30 investors into the residential property investment market who might otherwise have not afforded an investment property.
Commenting on their innovative decision, Shartru's Principal, Rob Coyte says "The beauty of the DomaCom model is that we can offer a diversified portfolio of investment properties to our clients who don't have to borrow to get into the market, and we can give them the right asset allocation for their circumstances".
---
1 2 3 of the DomaCom Fund
The DomaCom Fund is a scalable, Managed Investment Scheme (MIS) platform that provides a mechanism for your clients to invest in one or more properties of their choice via a syndicate-like structure to satisfy their residential property investment asset allocation.
The properties held in the Fund are segregated into sub-funds, and just like buying shares and managed funds, investors only hold units in the sub-fund that owns the chosen property. The Fund has no gearing facility, however, investors can borrow externally to purchase units within the Fund.  The Fund offers a pure property return, i.e. rental yield plus capital value.
DomaCom has also created a secondary market to give the property funds a liquidity solution.  This means investors can simply sell their units online in much the same way as they sell shares. As a result, the DomaCom Fund can never freeze in the sense of a property trust freezing.
For more information, please read the DomaCom Fund Product Disclosure Statement (PDS).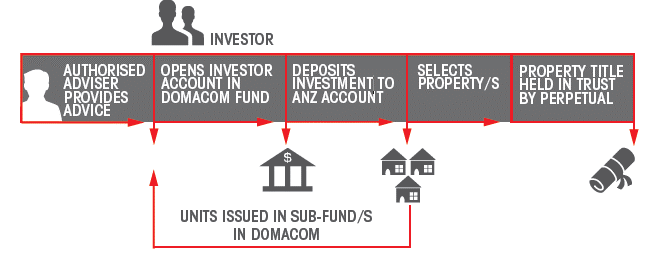 Frequently asked questions:
How do you invest clients in the DomaCom Fund? As the adviser, you can open an account for each client wanting to participate in one or more property investments. Once your clients' funds are deposited and cleared, a bookbuild can be commenced. You can create a private syndicate across multiple clients to purchase one or more properties. The minimum amount required to open an account is $20,000.
Where are the investment properties? You can choose any property for sale in Australia – i.e. residential, rural or commercial. If a property is not already listed on our platform, please call our Client Service team on 1300 365 930. They will locate the property you're after and load the necessary information to begin a bookbuild. You may also wish to engage a property consultant to assist in the selection process.
What is a bookbuild? A bookbuild is an online process of securing sufficient money to purchase a specific property. The bookbuild process brings together as many 'syndicate' members as needed based on the amount they wish to contribute. Book builds can be public – inviting anyone to participate – or private, inviting specific clients only. A bookbuild can only be started online by a DomaCom accredited, licensed financial adviser.
How can I use the DomaCom Fund? You can use the DomaCom Fund like any other MIS product on your APL.  It may be useful to create a list of clients who want or need an allocation to real property and the amount they have to invest.  Once this is collated, you will have a starting point and you can begin to open accounts and create syndicates.
How do we locate the property? Once you know who and how much should be invested, you can begin the process of locating suitable investment properties. You may need several properties to satisfy your clients' needs, which presents a diversification and risk minimisation opportunity to spread your clients' property allocation across multiple properties. DomaCom suggests you engage an independent, qualified investment property adviser to construct a portfolio for you.
Do you want to increase your fee basket? The DomaCom Fund is a regulated product so you can potentially increase your fee basket by purchasing your client's investment property via the DomaCom Fund. This will help protect your clients from property spruikers and ensure they maintain a balanced portfolio across asset classes.
How do you start? To get started, please contact your nearest Business Development Manager or email sales@domacom.com.au.
Useful tips:
Managing client expectations when selecting a property.  It's very easy for clients to get excited about purchasing property as part of their investment and wealth creation. Unlike managed funds and shares the property sector is unregulated. Engaging an accredited property investment adviser is a wise move.
Property industry associations help advisers.  Property Investment Association of Australia (PIAA) and Property Investment Professionals of Australia (PIPA) represent qualified property advisers to whom financial planners can outsource property selection. For more information, visit www.piaa.asn.au and   www.pipa.asn.au.
---
Accreditation
Authorised financial advisers must be accredited by DomaCom before using the Fund for clients. To find out more, visit DomaCom Company.
---
Rice Warner report
For peace of mind and to give you a better understanding of how the DomaCom Fund works within the MIS framework, you can access our Rice Warner report.
---
In the press: